When we were picking out light fixtures for the house we forgot to include a light for the hall, so we opted for a cheap white light that was just laying around. It had been removed from either one of the bedrooms or the living room. For the past year and a half it served it purpose, but on our trip to Europe this year we stumbled across a Moroccan light at "Garten Tag" (Garden Day) in Steffi's grandma's town in Germany. We were really indecisive about buying it at first because we would have to haul it with us across Europe and back to Atlanta, but in the end the light won.
Getting it back wasn't as bad as expected since the lady at the market took a lot of care wrapping it in bubble wrap. What proved to be more of a problem was finding a canopy to hang it from. If you go to Lowe's or Home Depot the canopies they sell are attached to the lights, so you have to buy the whole light to get one little piece! Grr!
After looking at a number of lamp stores a sales rep finally pointed us in the right direction. If you are local to Atlanta we went to Lamp Arts on Howell Mill Road by the water reservoirs. They had just what we needed, and they sell parts for lamps and chandeliers. Apparently this is not very common. Who would have guessed?
We got back home and were all set to hang the light. We started working at around five – hoping to get it done before the sun set. Since we were replacing the light we had to cut the breaker and were worried about not being able to see what we were doing.
We did all the wiring, attached the chain, and took down the old light. Everything was going smoothly, and then we realized the rod that fastened the canopy to the ceiling was too long. When we screwed it in it was hitting the back of the metal box that houses the electrical wires. Doh! Off to Lowe's we went to buy a deeper one.
We bought one that was 1.5 inches deep (the original one was about 1 inch deep), and we got back and screwed it in. Up went the light a second time, and bam – we had the same problem. After scratching our heads for a few minutes I realized the actual hole in the ceiling needed to be deeper. Since we have drywall over our old plaster (not our doing!) I was able to knock out the plaster and put the boxer deeper in the ceiling.
Five hours after we started it finally worked! (We ate dinner in between there, so it didn't really take the full five hours.)
The close-up detail of the light.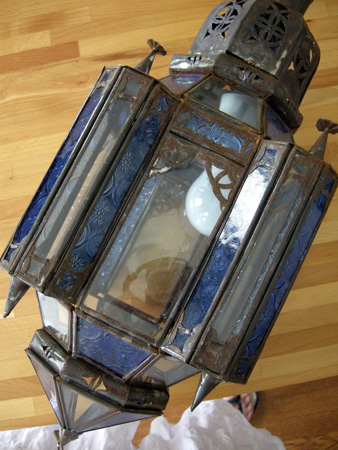 Here's how it looked before. Borrrring!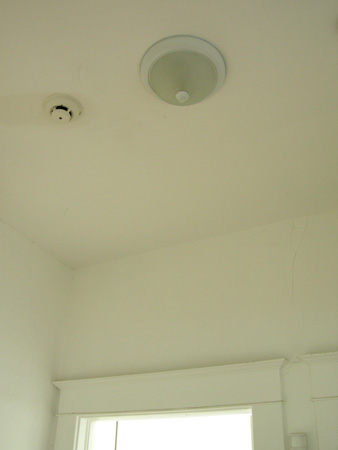 Much better. Now we just need to paint the walls.