Despite back-to-back wedding weekends we were able to get some more work done around the house. We've tried to get back to working more regularly on the dining room again. Mainly on weekdays for an hour or two after work and dinner. (We worked on it some more today and since I feel like I'm done for the day I thought I'd blog about the progress instead.) That translates to somewhere around three to five layers removed due to the time you have to wait between each chemical application. For now you can see the change because we were able to work on a large surface, but before long I won't have any interesting photos to show since the miniature details won't be noticeable on camera! (Just tedious work that doesn't feel very accomplishing since it's so hard to tell the difference!) The changes are looking pretty nice though. Ever so slowly the room is changing. At least we're getting it down to a color and smoothness that's pretty nice – but I'm scared of the process after that where we'll presumably have to sand everything down (including all those tedious details!), which is going to be sooooo much more work.
Our friend came by the other day and commented "Shouldn't you be done with this room by now?" I could have killed him, ha! So either we're just incredibly slow and incompetent at doing this, or else he greatly underestimates the time it takes to remove all this paint and stain (which is the answer I'm rooting for).
Patrick is working on the area where we hadn't unscrewed the hinges.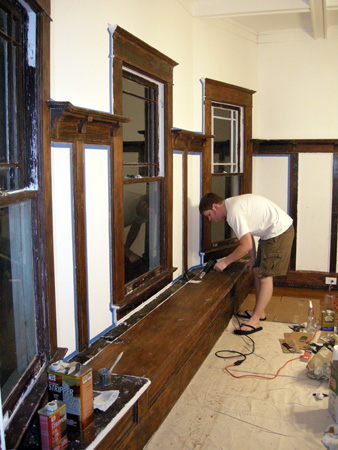 The hinge area now looks like the rest of the bay window seat.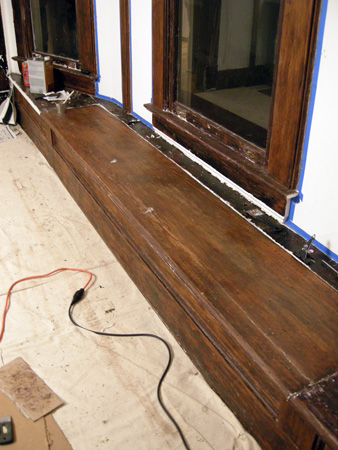 Different stages of the removal process. On the "cleaner" area we first used the heat gun, then the chemical paint remover and plastic scraper, then the chemical stain remover and "scrubbed down" with Brillo pads. The other area has only had paint removed with the heat gun – and perhaps already a coat of paint remover.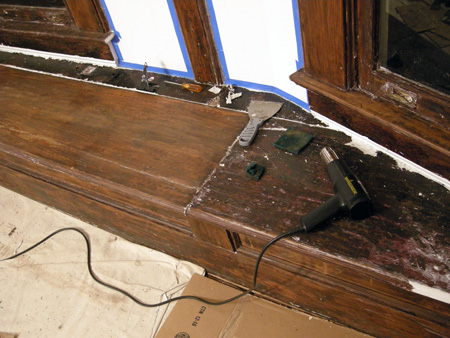 Here we've gone through all three steps on the seating surface.