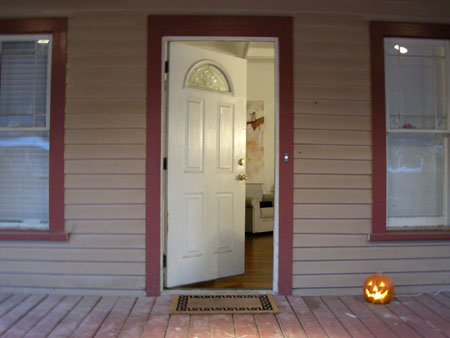 Happy Halloween to all of you out there!
So our Halloween this year may be a little bit humble. But it's a step up from last year, right? Last year we were somewhere around here in our renovation process. This year we upgraded to well…for one thing living here. So we put our little lit-up pumpkin on the porch so kids would know we're "open for business". (When I uploaded the photo I had to laugh for a second because it looked like our pumpkin was "blinging it up" with a gold tooth, haha.)
Since this is our first year in the house during Halloween Patrick and I didn't know what to expect. We bought two bags of candy figuring we'll get stuck with all of it. My "bet" was 0-2 groups of kids. We ended up having 5 groups of kids instead!! Our first one was our little one and a half (?) year old neighbor girl dressed up as "a snowman with a big butt" as her mom put it. *LOL* She must have rather been a snowWoman because she was dressed in all red and pink with red paint on her face. I assume the big butt was due to her diaper. ;-) Then we had four more sets of older kids. Since we didn't think anyone would come after the neighbor we gave her a whole bunch of the candy, but after the next two groups came we started panicking that we may actually run out! Plus who would have known, my "bet" was actually beat with the 5 groups of trick-or-treaters. And we did run out after the 5th group of people and had to turn off our little "blinging" pumpkin and porch lights. Shortly after that we heard more kid noise outside, so who knows, we may have had even more kids! Next year we'll be more prepared and not give out ALL our candy on the first trick-or-treater.
Happy Halloween from Patrick and Steffi!