So you know how it goes…it's the weekend, it's been a busy week and all you want to do is kick back, watch a movie, go out for a few drinks and food or hang out with friends. While those weekends are ever so fun they don't get too much accomplished around the house. This weekend I felt like we were really productive and got a number of things from the to-do list accomplished (and still managed to have a few beers at a friend's party!).
Exterior – Fence Removal:
Though the vines looked nice and grown-in and green on the fence the whole thing just isn't part of our long-term landscaping plan. Plus part of the bushy greenery consisted of poison ivy! So the decision was made to get rid of the rusty chicken-wire fence.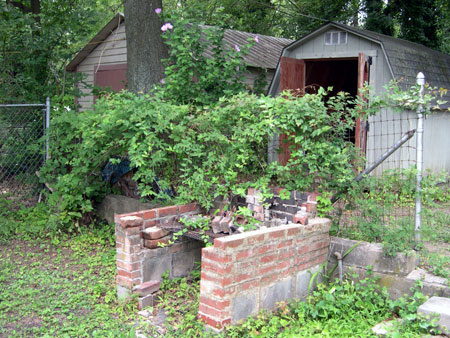 The view after the fence has been removed. Or at least the majority of it – we left a small part that was covered with the poison ivy which we have to kill before removing.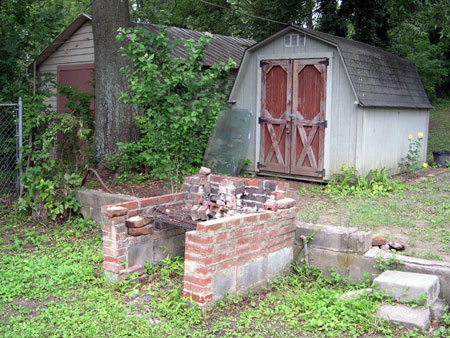 Patrick proudly displaying the "lovely" removed chicken wire fence.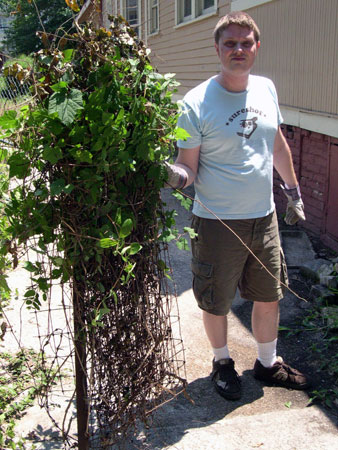 Exterior – Flower Bed:
The front of our house has been looking a bit bland. We love our hedge that separates the street/sidewalk from our lot because it's makes a natural fence, but the sight right by the house has just been lacking. Not to mention it has the remains of a holly bush trunk that must be as old as the house! I can't stand that big ugly thing, not to mention I'm not a big fan of scratchy bushes either. So this picture shows the left side of the house and what we started with.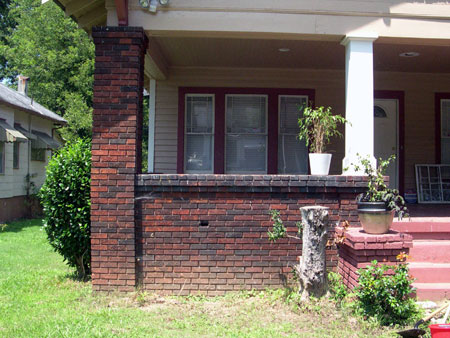 This picture is what we ended up with some 24 hours later. So much nicer! It already helps the ambiance of the front of the house.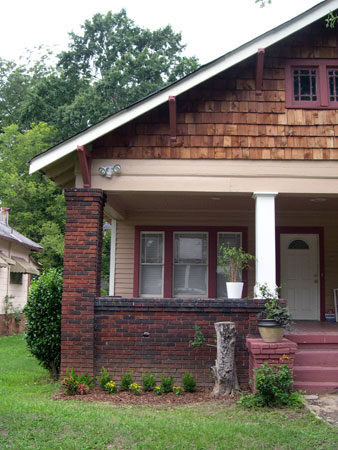 Awwwww, how nice. I know this is probably nothing for the average gardener, but like I keep pointing out – we're newbie's! So we're kind of proud of our first nice looking flower bed. I think our previous problem has been that we would go to the store, fall in love with what ever plant and then get home not being sure where to plant it. A week would pass and we would start stressing out about needing to put the plant in the ground. That's when plants have ended up in places that may not be the most ideal for them or where I later decide that the location would be more optimal for something else in the future. With this project I have really wanted a hedge by the front of the house. So we got these Japanese Boxwoods to make up the background and then some little cute annuals to add color in the foreground. Additionally we came across this neat looking "Asparagus Fern" that adds a little bit of variety (though it may not survive the winter).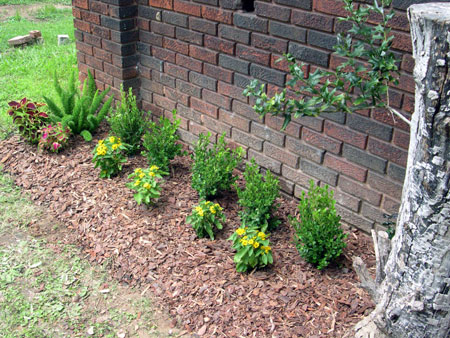 Interior Projects:
Additionally we accomplished some interior work…the kind that's not so exciting though (which is probably why we've been procrastinating!): hanging up blinds. We now have blinds over the six windows in the office. Which also means the boxes aren't lying on the floor anymore and we don't have to climb over them to reach the phone. We scraped paint off some of those office windows – too bad a ton of paint is also still on the outside part of the windows.
Another thing was unpacking our toiletries. We've still had them filled in boxes inside our bathroom built-in. Since we're not sure when we'll get to finishing it off we decided that we may as well unpack our items and not live out of those boxes anymore. Since all of this is pretty boring I'll spare you photos of which shampoo's I store in there. :)
I want to say there may have been a few more things we checked off the list, but I can't remember them now. Oh well.