Alright, so we've worked on a few projects over the last couple of weeks. And with this rollercoaster weather it gave us a nice variety of things to do.
Two weeks ago when it was snowing we stripped some more paint. Patrick worked on the last bit of dining room base molding and I worked on some detail by the kitchen door. I think with Patrick finishing the base molding the only large surface painted areas remaining are the fire place mantle and the coffered ceilings. All the other work will be the painstaking detail pieces.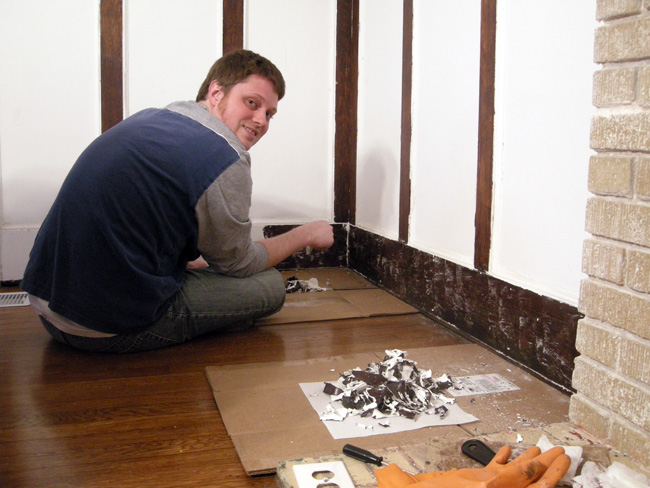 Then last weekend we had outstanding weather topping off at somewhere around 80F that made it ideal for some outside projects. For that matter it was almost getting too hot to work! I was finally able to tackle some of the leaves remaining from fall. Some people are really good about removing those as soon as they hit the ground. I'm the lazy one that waits to make sure that every last leaf has fallen before I bother removing any of them. One of my excuses is that they act as a protective winter blanket like mulch does, which is why I wasn't removing them before. ;-) So now I've been able to put seven brown bags by the curb, fill up the compost with a ton of leaves, and still have about three quarters of the yard left to go.
So while I was busy raking leaves Patrick decided to tackle the remaining fence posts in the middle of our yard. When we bought the house there was a fence going through the yard– perhaps because of a dog? Back in November 2006 we tore out the wire portions. I love how my comment at the time was "Next up: the poles gotta go" – that was over two years ago, haha. So as you can see it's taken us a while to get back to this one. Patrick pretty much struggled with it the majority of the workday. Oh how rewarding to get rid of that fence door!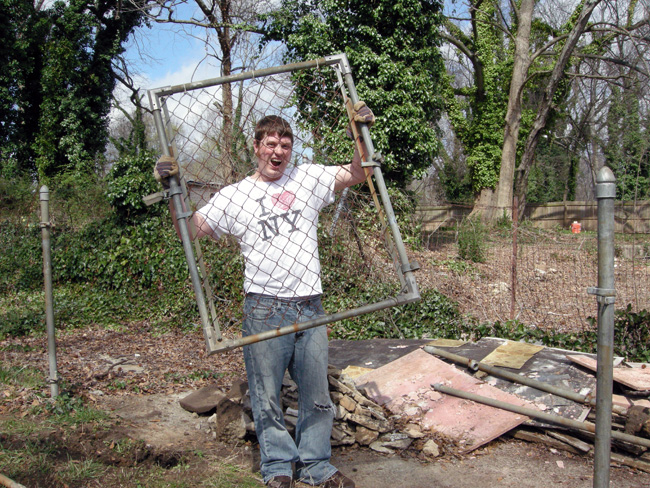 Those little buggers sure were cemented deep into the ground.
So once I was done raking the front lawn and parts of the back yard I decided to take on a piece of the garden being swallowed up by English Ivy. (I'm surprised its leaves don't come with devil horns.) I guess this portion of the end of the driveway has been overlooked since it's been hidden behind our pile of garbage that we have yet to get rid of. My excuse is that in the winter it's too cold to work on this and in the summer you get eaten alive by the mosquitos and uhmmm, I don't have an excuse for spring or fall, except that I'm tackling it now!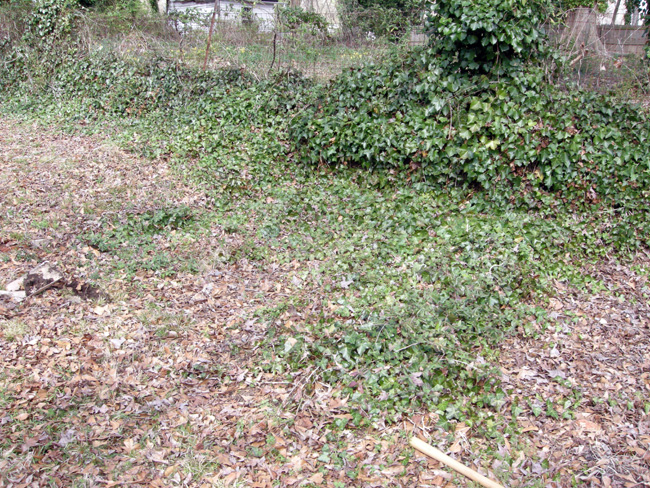 *gasp* There is a wall hidden behind all that English Ivy! So after ripping out all the English Ivy I found about half a trash can full of junk – old beer bottles, old liquor bottles, clothes, rusty metal parts, Styrofoam, you name it. But underneath that was some wonderfully brown earth! I guess all those leaves that lay there for who knows how long composted themselves. The earth came in handy too to fill in the fence post holes.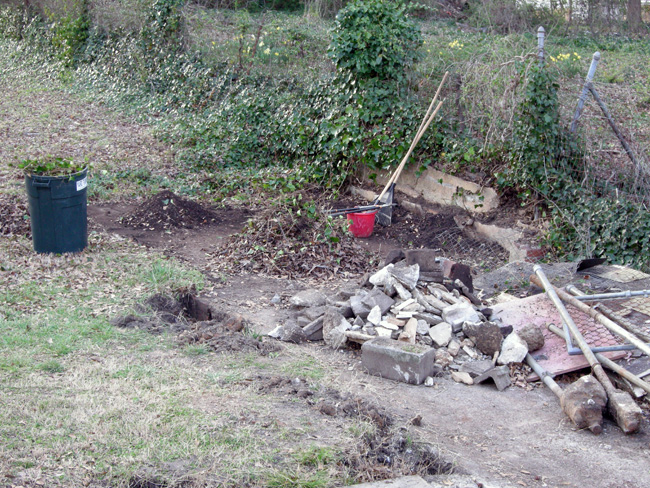 Man we really need a dumpster.