Ahhh yes, a holiday weekend. A great way to get projects accomplished with that one extra day off!
We kicked the long weekend off in style. The new Cajun restaurant at the end of the street opened up the weekend before, so we rounded up a few neighbors and probably tested their working limits…fourteen of us ordering 20 minutes before closing time! Twelve of us made it back to our house, munching on alligator sandwiches, gumbo, and other Cajun goodies. Since our newbie neighbors moved in a few weeks ago at the end of the street we decided to invite ourselves over to check out their renovation. Somehow that turned into neighbor house hopping and we checked out the progress of two other houses. What a sight that must have been -– our mob of 10 walking down the street. (We lost some people after dinner.)
So after a fun neighbor gathering on Friday we got down to business the rest of the weekend. Most of the projects were fun, but one of them was a pain in the ass. A little over a year ago we hired a company to blow insulation into our attic. As the weather warmed up our recessed kitchen lights started overheating and turning themselves off. (Which, as annoying as it is, is probably a good thing as it keeps our house from burning down!!) We called the company to complain and they brought back the crew to put pipes around the recessed lights so they can have some breathing air. I think their excuse was "We didn't know they were recessed lights" or something silly like that. You know, the kind of comment you'd expect from a company who spends their entire work day in an attic. *end sarcasm* Well, whatever they did it didn't seem to be working because the lights still kept shutting themselves off. It has taken us a while to work up the energy to go up in the attic to solve the problem because the project is quite a task. It involves empting all the clothes out of the hallway closet, moving half the stacked boxes underneath the clothes out of the closet, putting in the short ladder to reach the attic door and slide it out of the way, and finally get the long ladder to climb in there. Like I said, it's a task! Fortunately for heat's sake the weather has been "cold" (relatively speaking) and rainy all May, so the attic was probably cooler than it could have been under normal circumstances. Unfortunately attic's usually get hot even when the weather outside is mild. Patrick was trying to maneuver his way across the insulation covered attic beams to the recessed kitchen lights – which are thankfully near the attic opening (as opposed to all the way across the house).
The idiots from the insulation company had taken pipes that were barely as large as the recessed lights, and half ass taped them together with duct tape. Then they pretty much managed to fill the pipes back up with insulation when they recovered the area. Geniuses, simply geniuses. So we opted to remove the half ass coverings and scrape any insulation close to the lights to the side. Yes, I know that reduces our insulation, but it feels much better not to have your kitchen lights create a light show blinking on and off, and it makes us feel more at ease knowing the attic won't catch on fire.
This is a picture of Patrick balancing on beams. It was about 5 minutes before he hit his head on a lantern he hung up from a nail, causing the lantern to plop into the insulation and me cracking up laughing. Apparently laughing at a hot, sweaty, stressed out guy balancing on a beam in an attic frantically looking for a buried lantern is not a good idea. He got mad at me for laughing and asked me to help find the light instead. Of course that only made it worse as I had to hold in my laughter while trying to explain where I thought the lantern may have fallen. Towards the end we switched places and I crawled in the far reaching corners at the tip of the roof where Patrick was having a harder time crawling into. The good news is, so far no lights have gone out since then. Keeping my fingers crossed for those July and August temperatures…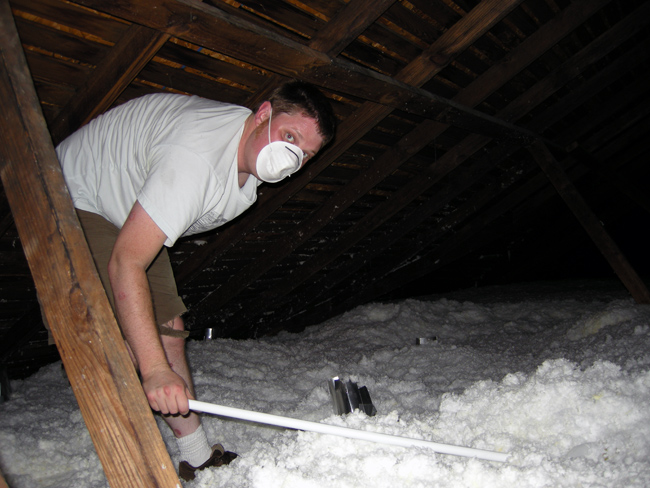 The next project was much more calming…and we were able to breathe a little easier. We made a new corner bed and planted Rosemary. Awwww, look at Patrick – he still has some insulation stuck on his unshaven chin! The Rosemary is next to him in the background. In the foreground is a lantana we planted last year.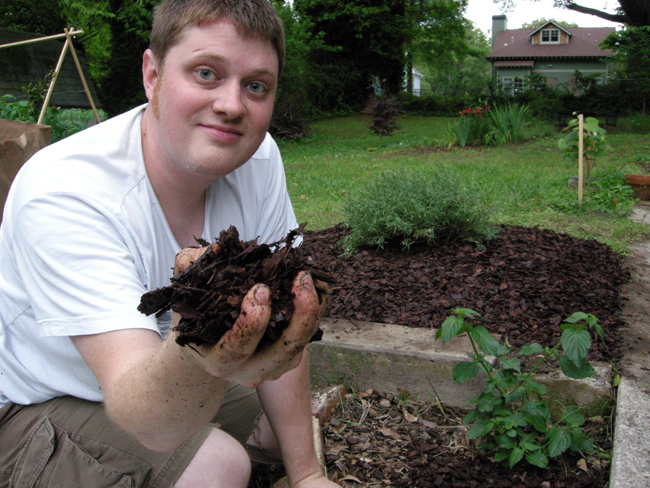 This project makes me laugh…we got a Pink Knockout Rose from my parent's friends that we've been trying to plant since we got it a month ago. Of course since we didn't have a planned project we didn't know where to put it. So finally today we ended up planting it. Only to plant one rose we created a whole garden bed. (An extension to the Rosemary bed.)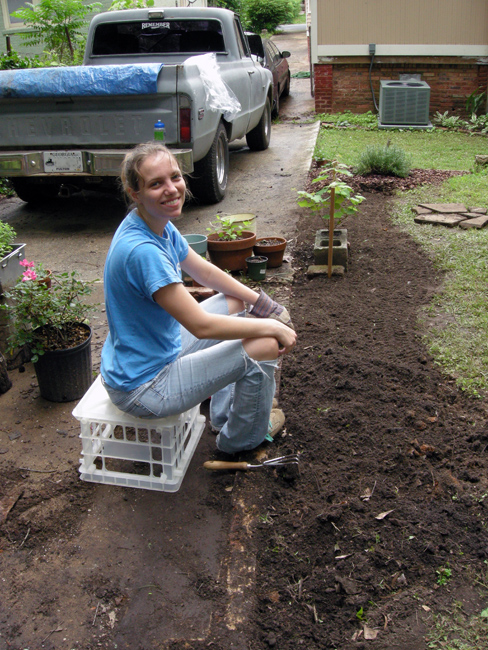 But digging garden beds never comes without surprises in our garden. I swear we feel like archeologists whenever we get out the shovel. My biggest complaints are coat hangers (they seem to have gotten less frequent these days though) and broken glass. I swear I can't dig without gloves because every shovel has at least one piece of broken glass in it. You can ask Patrick how often I curse because I come across another one. In any case, this uncovering was a bit more exciting as it was next to the former garage location. Some of the "artifacts" included a saw, a hammer, a tire wrench, a large hinge, and other miscellaneous items.
Other uncovered items included some larger rocks, which we decided to put amidst our other garden bed. I'm loving the Monte Negro Lilies by the way! The other two varieties haven't bloomed yet. And I'm upset about this non-stop rain as it seems to be drowning my row of Lavenders.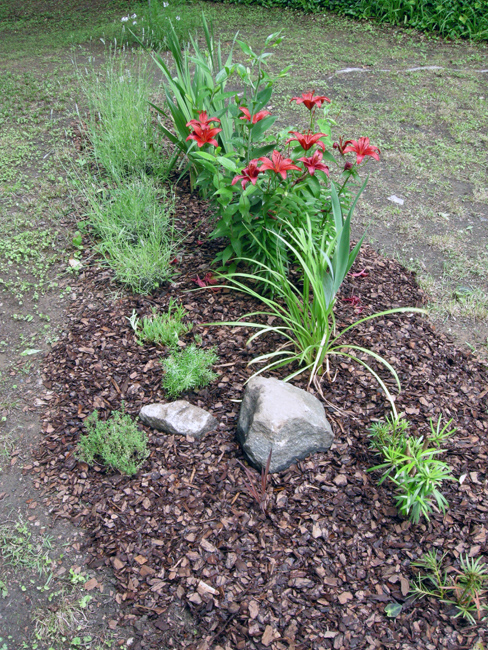 And voila, our new driveway garden bed! In the back you see the Pink Knockout Rose. We used the new garden bed opportunity to plant some other things we still had sitting around in pots. By the Rose we also planted a Weigela Carnaval that we transplanted from next to the stairs, some Shasta Daisy's I grew from seeds over the winter, a Gerbera Daisy left over from last year, and a miniature Rose I received for my birthday. The other items you can see are the grape vine, which has grown tremendously this year, a little stepping stone path we made from uncovered concrete blocks (found from digging in that garden bed), the Rosemary, the Lantana and Lantana cuttings that I'm trying to propagate in a pot.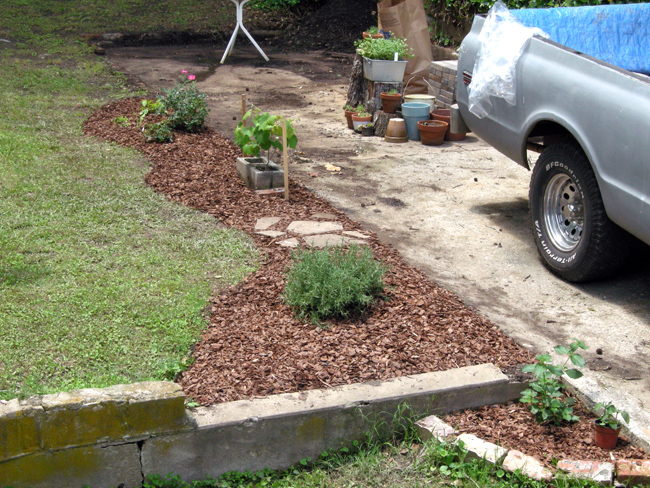 Phew, so now that it feels like we got a ton of work done over the weekend we'll see what this upcoming week brings us with the painters! *biting my nails*