Frank Lloyd Wright
Comments Off

on Frank Lloyd Wright
This weekend Patrick and I went to Chicago to visit our friend Clementine and to explore the windy city. One stop we couldn't do without was visiting one of the Craftsman Godfather's homes: the Frank Lloyd Wright Home and Studio.
After a long "El" ride to the suburb of Oak Park we hustled to catch the 1:20 tour. We walked up to the home just in time to see the tour leave (and the next one not being until 3:00!). Fortunately we were in luck…a group of another 5 people just missed it as well, so the lady at the ticket counter was nice enough to escort the 7 of us to join the group that had just left. The tour lady didn't wait to show us that she was quite a bitch. When we joined the group she didn't hesitate to inform the ticket lady that she didn't want us to join the group and to just take us back to wait for the next tour. (In such instances I would imagine other tour guides to warmly welcome the late joiners.) Thankfully the ticket lady nicely explained to her that the next tour was not for another hour and 40 minutes, upon which the tour lady discontentedly allowed us to join. Once we entered the house and walked into the living room she told us that they didn't display the lamps that would have been in the rooms because "YOU will knock them down" – not a nice "people could knock them down" or something less accusing…just plain old "you will." Wow, we got accused of something before we even did it! Then when we were in the tiled dining room she freaked out at one guy and told him to close the water bottle he was holding – which was closed. Throughout the tour she asked if anyone had any questions, so at one point I was curious to see the interior of a built-in closet in the nursery and asked her if she could open it so we could see inside. All she answered was "NO!" I guess that answered that.
Overall the tour was interesting. The $12 fee was a little bit on the hefty side, but I guess we shall call it our contribution for our Craftsman passion. Based on our tour guide's description of Frank Lloyd Wright he seems to have been quite an asshole himself. He would make his wife wear dresses he designed that would match the style of the house. Plus the fact that he left his wife and six children for a client's wife doesn't make him seem like a very caring gentleman either. But I suppose many influential people have their weird knack's, so you have to separate his creativeness and what it has contributed to history from his selfish and, as our guide book put it, "not so humble" personality and life.
Here are some photos from our trip:
Frank Lloyd Wright's Home & Studio – front of the house (now facing a side street)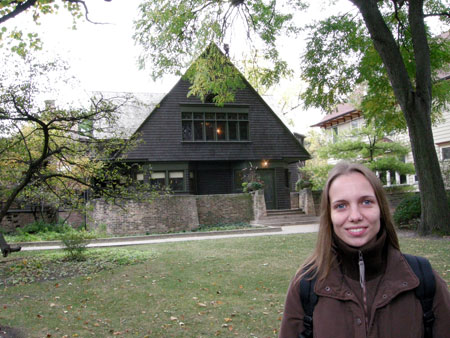 Frank Lloyd Wright's Home & Studio – side view towards studio (now facing a main street)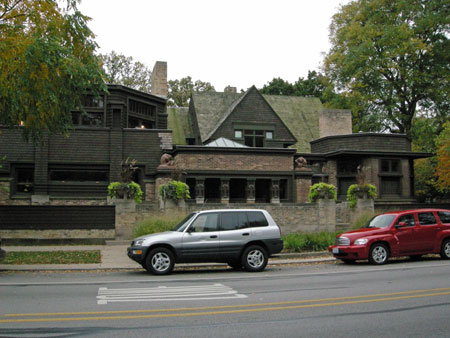 One of the "Bootleg" houses – one of Wright's first home designs (for which he got fired by his boss)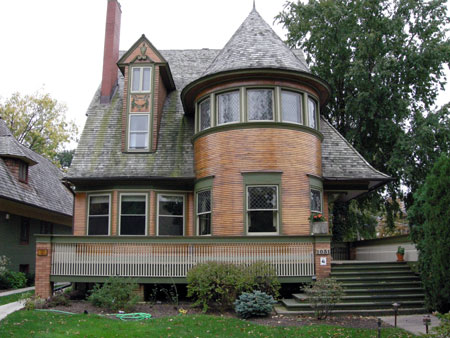 Nathan Moore House (quite crazy with cathedral-like looking windows)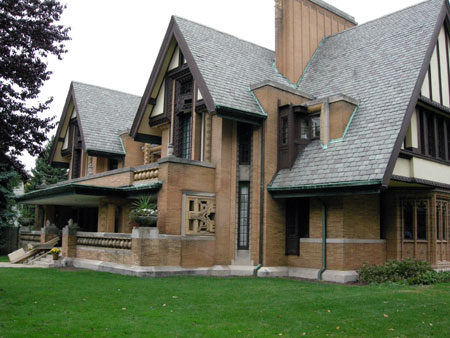 Arthur Heurtley House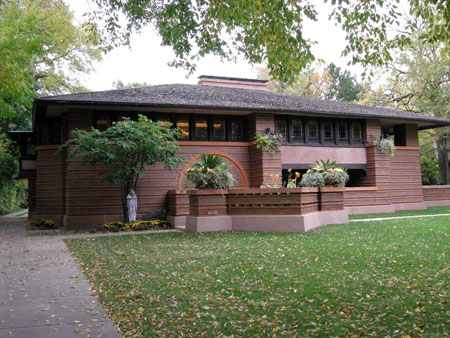 You can see the Japanese influence on this design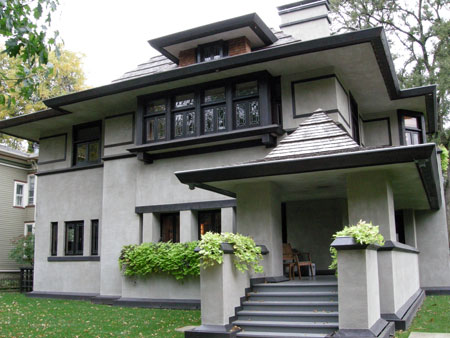 The Unity Temple (we decided against the $8 tour of the interior)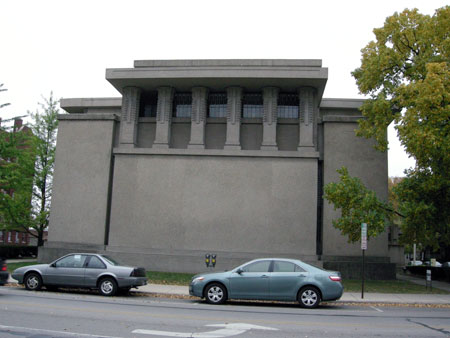 Unfortunately photography inside the home and studio were not allowed, but the interiors of his home definitely showed the influence of interiors that can be seen inside the common style bungalows with tons of wood work, built-in features, butler's pantry, etc. (that is, unless they've been torn out by careless contractors wanting to make a quick buck). The pictures I've found online are pretty bad quality, but to get an idea: living room and dining room. The old dining room converted to the "kids' homework room" had very nice built-ins, but unfortunately I can't find a photo.
On our next trip to Chicago we're going to have to find and explore the famous "Bungalow Mile". Plus the German part of the city so I can connect with my peeps and see how much in touch they still are with their German heritage. ;-)