Our fireplace paint removal with Peel Away has continued over the last week. In order not to get overwhelmed we are tackling one little section at a time. Patrick is applying the Peel Away…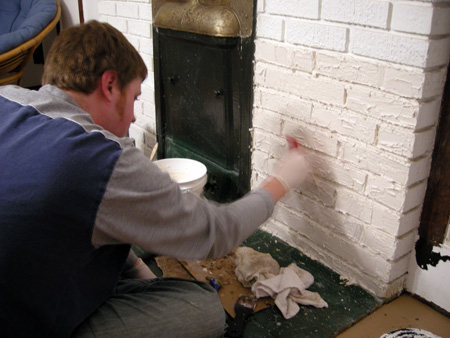 The waxy paper is applied. Now we wait…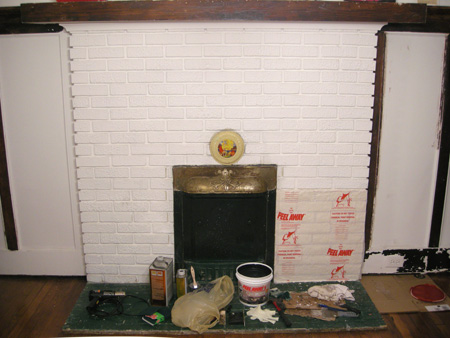 As the hours pass it seems as though the paint color tries to escape towards the waxy paper. It's interesting to note the two bricks we've previously already removed paint from have less of the colored blotches…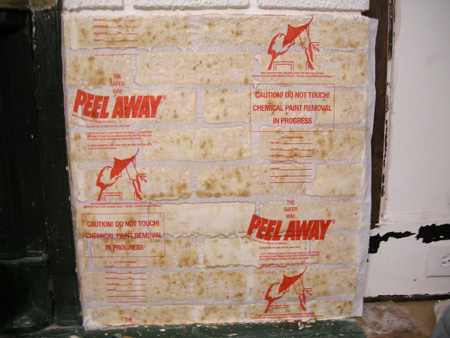 With metal scrapers we try to peel away the paint with the paper as best as we can. Since this brick is so extremely textured a good amount remains behind in the gaps.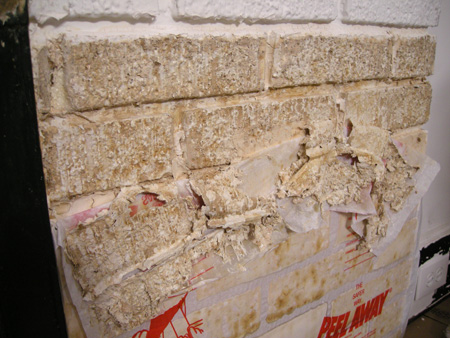 We try to wash off the excess paint and chemical as best as we can with a sponge, nylon brush, towels, and lots of water changes. After that I tackled the brick with a metal scraper to get off areas that are softened because of the water but sticking too much for the sponge.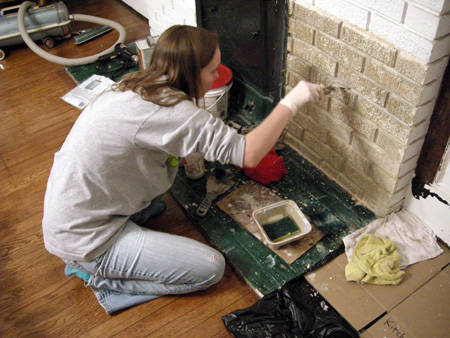 Our first block complete! Can't you picture the whole beauty already?
Next we decided we wanted to figure out what surprise lay ahead of us for the fireplace hearth. After the overnight waiting period we started to remove the multi-colored mess.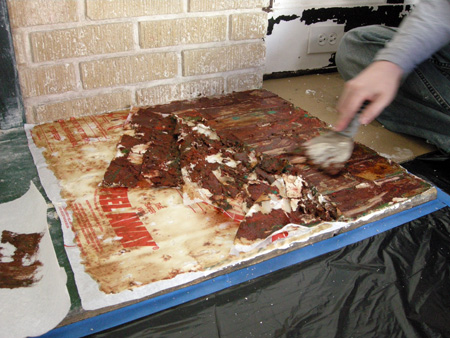 I had to take a close-up of the color mess. Will you look at those colors?! Obviously we knew the top coat of paint was a dark green, but underneath that was a BRIGHT red paint. It may be a little hard to tell in the photo because the bright red is already mixed in quite a bit with the other colors, but believe me, it was quite red. I think many home restorers will have stories about the colors they find when digging through the layers of paint. We've had our share of pastel pink and pastel green in the bathroom, and a pastel yellow in the kitchen. All those appeared to be older colors. Then we found a bright blue in our bedroom, and now this neon red in the dining room – my guess is 70s? I seem to get this picture that our house used to be bright circus colors!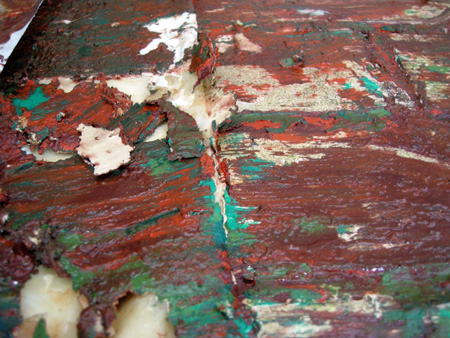 After some sponge washing the tan tile is starting to appear.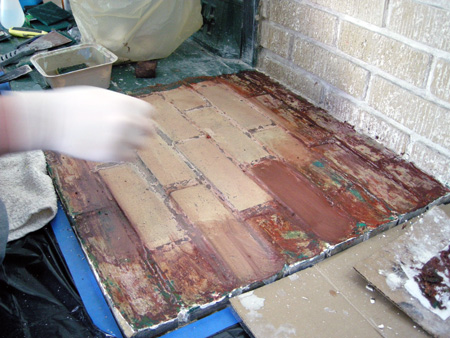 And here is where we're at after four Peel Away sections. I'm loving it already!!