Today we got busy planting those plants we bought from Lowe's yesterday and received in the mail a few days ago…
On the left is the Spring Hill Nursery catalog "JFK" rose, on the right is the Lowe's yellow rose whose name I can't tell you because Patrick threw away the tag. On the left is the $7.50 rose (after 50% rebate), on the right is the $6.98 rose. I think I'm starting to feel a little bit ripped off with this catalog order. I've heard bad things, but I thought it would be good to give it a try nonetheless. Maybe I should have listened. All I know is that rose better make a hell of a recovery and have a hell of an amazing bloom to make up for things.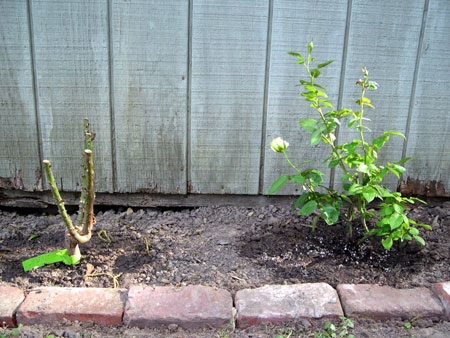 Our little garden buddy. This is the little shy boy from next door. He comes and plays in our yard while we do work, but he usually runs away when you try to have a conversation with him.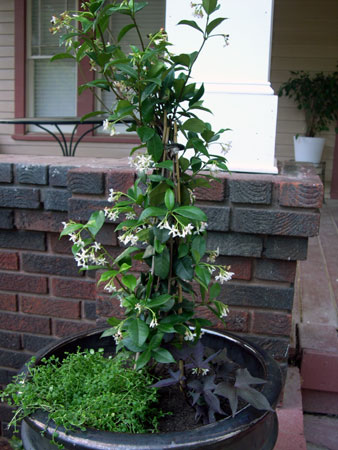 Our attempt at starting a vegetable garden. In the far back is the grape vine. We've had it sitting in our dining room bay window in the plastic container it came in for probably 2 months now. When we bought it there was one tiny leaf. Before we knew it the thing started growing and getting bigger. Now that we put it in the ground the leaves started turning white, so we're not quite sure what that's all about. In the middle is a zucchini plant, and in the front a tomato. My parents brought those back for us…hopefully they'll do better adjusting than the grape has.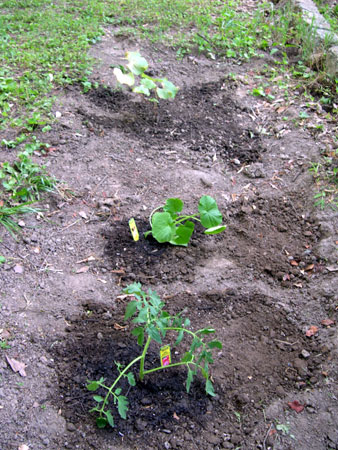 One of our wishes has been to get two big ol' flower pots to put by the front steps. We've seen so many bungalow's with them that we wanted some of our own. On our past searches we've only come across concrete or plastic containers – neither of which felt very attractive or otherwise pleasing to us. Yesterday we finally found two glazed clay pots that we liked. It's funny how such big pots can become so small once you put them next to the big house. I've always been fond of my parent's jasmine, so when we came across some at Lowe's I decided that I wanted to put it in the big pots. We bought some little ground covers to go along with it.