So here we thought we were done with plumbing. Since our house had been stripped of all its copper plumbing before we bought it we had to replace the whole system. Then take the whole plumber nightmare (after nightmare, after nightmare, …) into account and well…let's just say we were very much over plumbing and plumbers. Apparently fate decided we weren't quite entirely done with it just yet.
While we were on vacation I went online to pay out water bill. I was a bit shocked that the bill was about $30 more expensive than our highest bill – and we had been out of town and not using the water for half of that period! The city had recently come by and replaced the old water meters with some new digital ones. Patrick and I had heard from other people who had theirs replaced that the water bill became more expensive afterwards.
When we got back from vacation Patrick mowed the lawn and had trouble at one spot next to the house where it was still very wet. We didn't think much of it. It had been pouring a couple of days earlier so it probably just hadn't dried yet. Only the wet spot stayed even after days of no rain. By Sunday we were starting to get into panic mode – it had to be a water pipe leak. We found a place online (based on Kudzu recommendations) who also happened to be open Sundays. We called and scheduled an appointment for Monday. Monday a guy came and gave us an estimated cost – ahhh, you gotta love those unexpected high bills. (I guess that privacy fence I so desperately want will have to hold off a bit longer.) The plumbers were scheduled for "sometime Tuesday" (but couldn't specify when).
The two-men plumbing crew rang our door bell about half an hour before our alarm clock was due to go off. We showed them the area and they got their tools ready. Before we knew it our yard looked like this…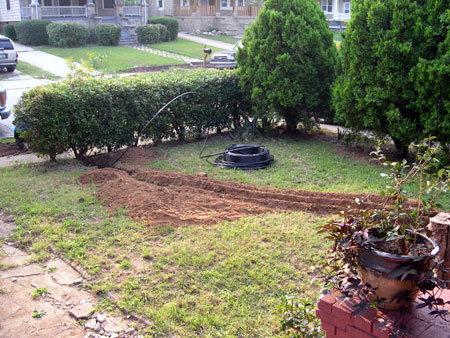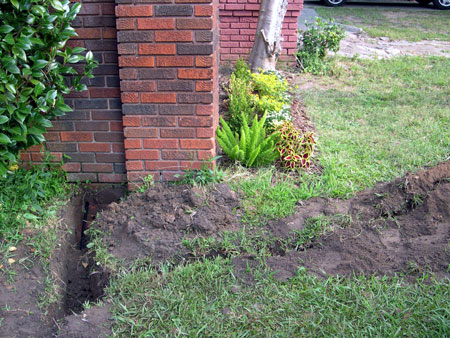 …and exactly 2 hours later the guys were all packed up and driving off…. :)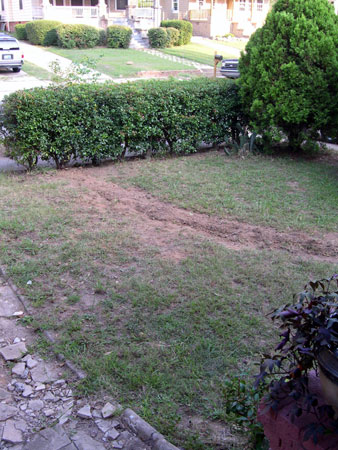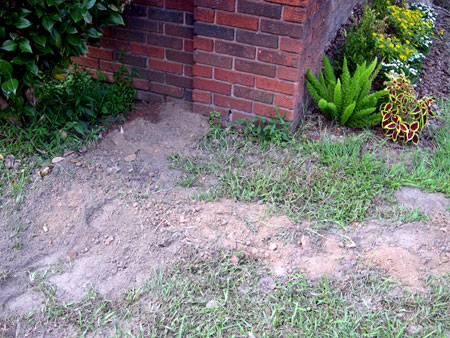 Instead of running the pipes through the yard to the back of the house like it was before we followed their suggestion to bring it in at the front of the house and run it along inside the crawl space instead. I'm not sure how much other people pay to have their pipes replaced, but I definitely can't complain about the 2-hour turn-around time and the fact that they were able to come out a day after quoting us a price.
Hopefully our plumbing woes will be over for a while now. Really the only original plumbing feature now left in the house is the sewage pipe back to the street. But I won't talk about that too loudly…I don't want the sewage pipe to get any ideas after all. ;-)