Between Christmas and New Years Patrick and I decided to go on a little post-holiday escape – the destination being New Orleans. I had been there with my family some 10 or 11 years ago, but Patrick had never been. The "great" thing about doing a home renovation is being able to put those big sums on the credit card. (Sounds like my mom's favorite phrase – "the more you buy, the more you save", hahaha.) And that's when it pays (quite literally really) to have one of those point credit cards that lets you redeem things. So thanks to our new stove, bath tub, toilet, etc. we were able to get a couple of nights for free at the International House Hotel in New Orleans, woohoo!
On the way to New Orleans Patrick had scouted out the town of Convington, a cute historic town north of New Orleans on the other side of Lake Pontchartrain. He had narrowed it down to two Bed and Breakfast's, so during the 7-hour drive I called the two places to make sure they had vacancies and verify their cost. We opted for Camellia House, and as an added bonus when I called back the lady told me she would even give us a discount because there would be a little bit of construction noise. Camellia House ended up being the cutest Bed and Breakfast we had ever been to! Well, the whole town is pretty cute for that matter, made up of tons of cottages and bungalow homes. Absolutely adorable!! But Camellia House and Linda (the lady running the place) were absolutely wonderful. We would recommend this bed and breakfast to everyone!
The whole experience was just great…we arrived there and were greeted by the wonderful owner. We ate dinner at Buster's Place, a "restaurant and oyster bar." We tried the Leinenkugel's Sunset Wheat beer and loved it so much that the waitress ended up giving us two of their beer glasses (with gold rim). I liked the oysters a lot too even though I wasn't a big oyster fan in the past. And funnily enough we ended up sitting next to ex-governor David Treen and his wife! (Louisiana governor from 1980-1984.)
Patrick wanted to add that the Camellia House also has a really nice hot tub to relax in!
Camellia House from the outside with lots of beautiful landscaping.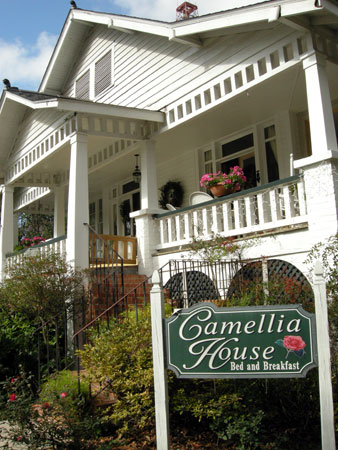 Our adorably decorated room.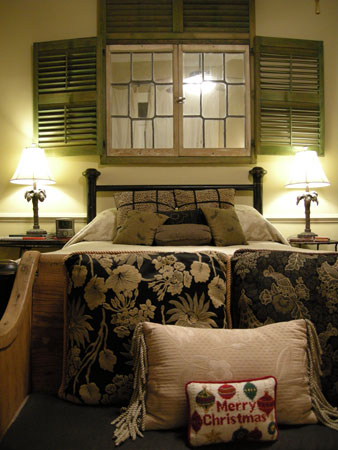 The exterior was just gorgeous too – here's a view of the pool.
Here's me about to enjoy a wonderful breakfast with coffee, orange juice, pastries, and fresh strawberries.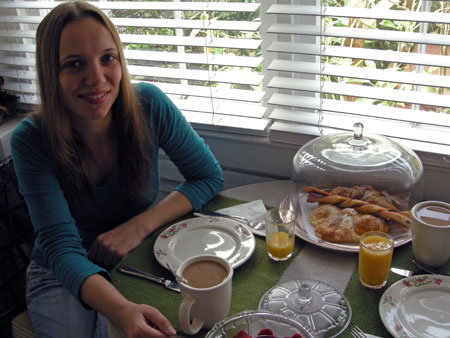 This table cloth from Buster's Place was too funny I had to take a picture and post it here.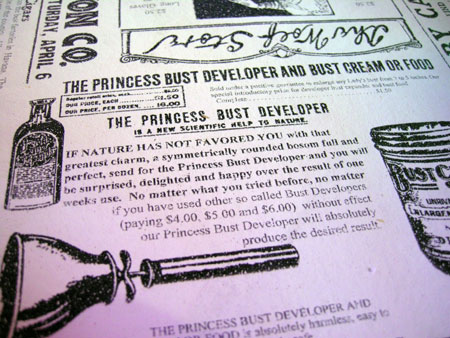 So after spoiling ourselves a bit with the bed and breakfast for the first night we went on to our free hotel for the next two nights. The International House Hotel is in the Business District, but just one block from Canal Street and the French Quarter. We've read reviews on Trip Advisor how it seemed to be a necessity to stay in the French Quarter, but we were really happy we were close but just outside of it because we realized there'd probably be a lot of noise had we actually stayed anywhere in the French Quarter. Especially since the Sugar Bowl was coming up on January 1st and all the football hooligans were starting to trickle into town and were eager to drink and party. While we were in New Orleans we did a lot of the typical tourist things like try a muffuletta at Central Grocery, have lunch and a sazerac (the "original cocktail") at Napoleon House, have beignets and coffee at Café du Monde, having a Po Boy sandwich at ACME Oyster Bar, travel to the fancy historic Garden District by street car, do a cemetery tour, walk along Bourbon Street and enjoy a $1 street beer, listen to an awesome brass band on a street corner on Frenchman Street, visit Jackson Square, visit the 1850 house, visit Madame John's Legacy house, take the free ferry across the Mississippi to Algiers to visit Mardi Gras World, etc, etc.
Some of the unique experiences we had were stumbling into a photography exhibit/shop that sold original photographs by masters such as Diane Arbus, Helmut Newton, etc. The most expensive photograph I saw hanging on the wall was a $175,000.00 Diane Arbus photograph. It was a little crazy standing in front of such an expensive, original piece of art work! I mean, I suppose in museums you do it all the time, but I suppose it was a little bit crazy because we just walked into this photography place (because we both love photography) and didn't expect to enter a place that would sell original pieces from such famous photographers!
Another pretty crazy experience was going to Mardi Gras World and meeting Mr. Mardi Gras himself, Blaine Kern. This 81-year old gentleman could have easily told people he was 60 had he wanted to. We did the overpriced tour of the warehouse containing a ton of vibrantly colored Mardi Gras float materials. At the end of the tour we were told we could wander around to take photographs. To our surprise the crowd cleared out and we were the only people remaining. So we walked around, taking photographs of all the crazy motifs when Blaine Kern walked over to us and started talking to us. He told us about his new plan of starting a Halloween parade and turning New Orleans into a popular Halloween spot. The proceeds from the "Krewe of Boo" costs would go towards funding for firefighters and policemen to be brought back to the city of New Orleans after their displacement during Katrina. Quite a project to start for an 81-year old. One should also note that Mr. Mardi Gras produces 75% of the Mardi Gras floats and has turned this into a $20 million a year industry in the 60 years he's worked on it. Quite impressive.
Playing around with old Mardi Gras items.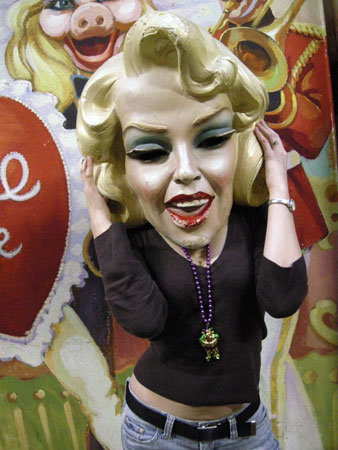 Posing with Mr. Mardi Gras, Blaine Kern.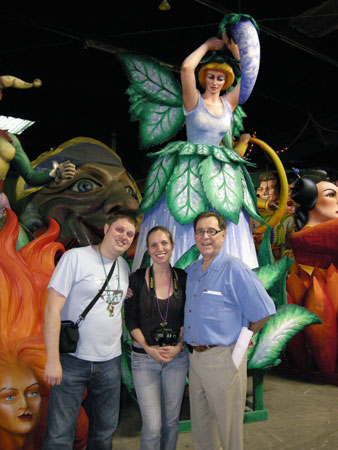 Enjoying my $1 Bourbon Street beer.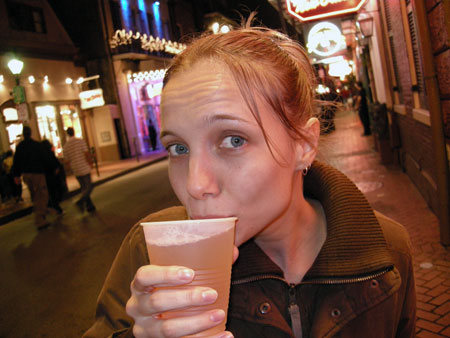 Sugary goodness at Café du Monde.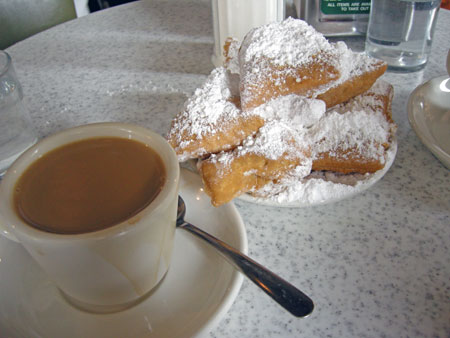 After New Orleans we thought we'd take the opportunity to drive to Baton Rouge for the night. Along the way we stopped to view an overpriced plantation home. For this night we hadn't made any hotel plans, so since we spoiled ourselves the first night of our trip we thought we'd stay at a budget motel advertised along the highway for this last night. The Motel6 turned out to be the worst hotels we had ever stayed at. Our first non-smoking room smelled so bad of an unknown odor that we opted to switch rooms. The second room turned out to be occupied by another person. The third room was next to the first room and smelled equally bad. We threw in the towel and said "let's just stay in this room."
After an uneventful and dead night out on a Saturday in Baton Rouge we returned to our stinky motel room. Shortly after we decided to walk next door to Super Target to buy incense to help us breathe in the room. (To our amusement the Super Target sold liquor! A no-no in Bible-belt Georgia.) The incense made the room mildly bearable. We finally went to bed, though Patrick kept tossing and turning for a while due to his horrors of the unsanitary room. In the meanwhile I attempted to block out the gross thoughts but was kept up by Patrick tossing and turning.
Finally, when we had just about dozed off, someone tried to enter our room. After telling them the room was occupied (hey, been there, done that earlier on in the night!) they left. We tried to get back to sleep only to have to receptionist call at 11:45pm asking why we were in the room and me having to explain the whole ordeal. The conversation included being "accused" of breaking into the room. Or at least that's how I interpreted the question of "Was the room door open and you walked in?" Yes lady, I just walked into an open motel room door and made myself at home!! We once again attempted to doze off, only to be disturbed by another phone call at midnight. Needless to say I was quite annoyed by this time, and since I was half asleep again I don't quite remember what insults I may have thrown her direction at this point. After finally getting to sleep the phone rang AGAIN at 2:00am, but whoever called hung up. Patrick was wise and unplugged the phone at this point.
After a bad nights sleep we got up early and checked out without showering, being too disgusted by the conditions to the bathroom. Patrick's "this was the worst night ever" comment resulted in a surprisingly fast, easy and unquestioned full refund! Though this didn't give us our hours of sleep back it at least made the stay somewhat more bearable and saved the motel from getting a horrible review on Trip Advisor. (To their benefit there was a sign posted saying they were about to start renovations to the motel, so they at least knew there was a problem.)
Being off to an earlier than usual start we went to see the USS Kidd (an old warship) and the state capitol building. The state capitol, built in 1928, was absolutely gorgeous on the inside. The free elevator ride to the top was also nice and we got a nice view of the area. We then headed back to the ATL, driving along the Mississippi coast and experiencing the damage left by Katrina. We had seen some of the impact in New Orleans. The tourist area had shown no sign of damage, but the northern area we drove under had been quite depressing. The raised I-10 bridge looked like a refugee camp underneath with one tent squeezed next to the other. The houses north of I-10 were largely occupied by FEMA trailers in the front yard. But when we drove along the coast through Bay St Louis, Gulf Port and Biloxi it was very crazy to see the obviously desirable beach front property remaining largely empty. There were lots of brick stairs leading to nowhere and lots of commercial signs with no commercial buildings left. Some houses had been rebuilt and looked stunning, but about 90% of the land was probably empty.
The rest of the ride back home was rough. We were tired from our lack of sleep the night before, so after the night time driving and dangerously thick fog along the way we were very happy to be back home and get a good night of sleep in our own bed.
Patrick mistaking the old navy war ship for a pirate ship. :)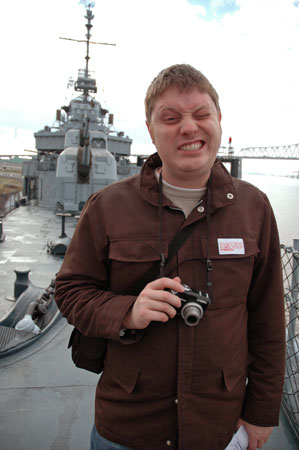 Luxurious beds in the USS Kidd.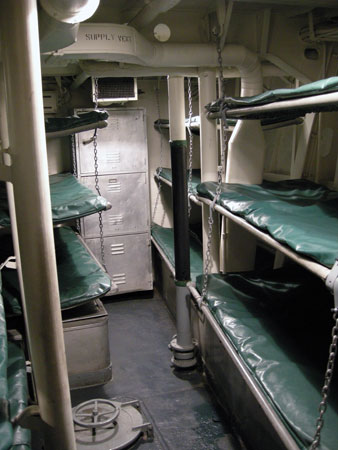 The beautiful interior of Louisiana's state capitol building.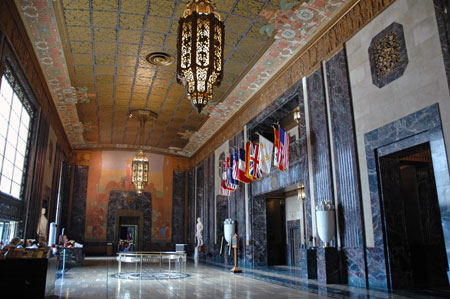 Tourist trap without a building.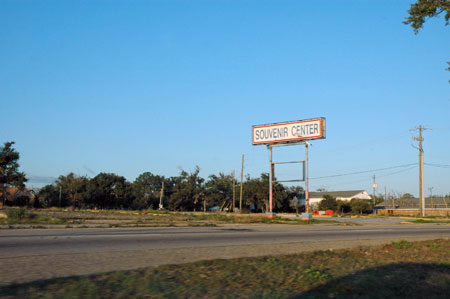 The mailbox to nowhere.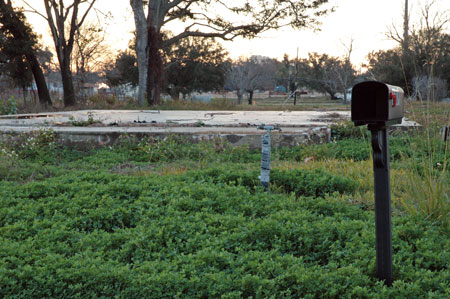 Now that we had a nice trip it's back to working on our home!