The Westview Community Organization, which Patrick and I are part of, participated in tonight's National Night Out. The purpose of the nationwide event is to get neighbors out and mingle and get information about public safety. The WCO sponsored hot dogs and refreshments and passed out information ranging from fire detectors, to important phone numbers, to security video cameras. Lieutenant Deborah Cox, District 4 Councilwoman Cleta Winslow, and NPU-T Chair Kwabena Nkromo were some of the public figures that stopped by to show their support.
Neighbor Julie Orr chats with WCO Vice President Scott Smith.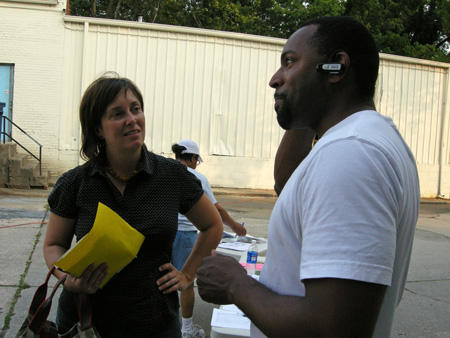 Cleta Winslow chats with some of the community's ladies.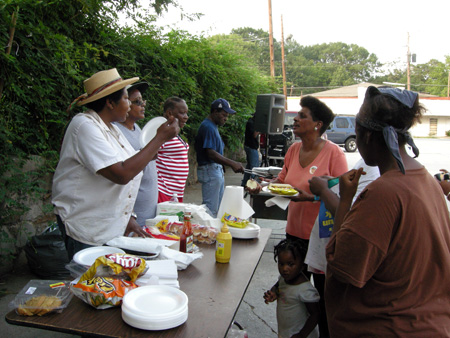 Michelle Green passes out public safety information.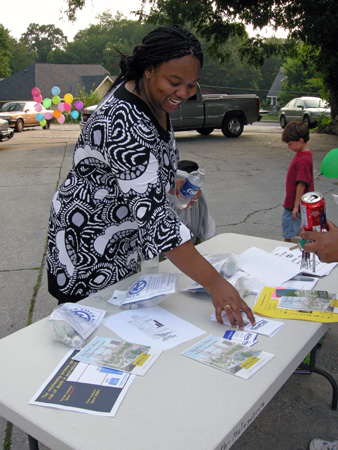 WCO Development Committee Chair Kenny Ellsworth and girlfriend Leslie Gage chat with Patrick. (We're part of the Development Committee as well – so many projects, so little time!)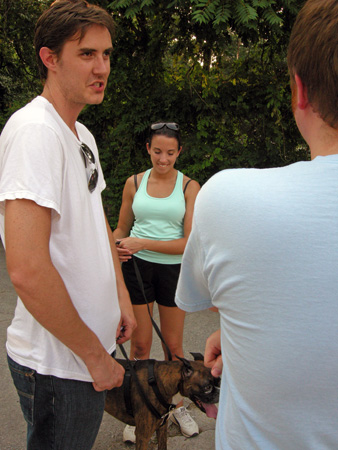 WCO President John Davis works hard behind the grill.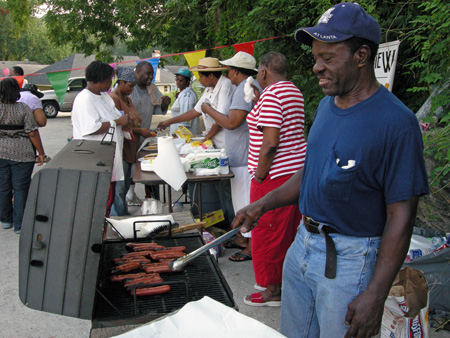 Patrick and I had a really nice evening. We helped put up some of the decoration and getting things ready for people to come. Then it was nice to mingle with our neighbors over some hot dogs (though it was sweltering hot!). The evening ended really pleasantly when it took us an hour to get home because we ran into neighbor after neighbor on the way home (and we only live about half a block from where the event took place!). After running into our first 3 sets of neighbors we were ready to continue on our way home. We had taken some left over helium balloons with us to give to our neighbor's three adorable children. As we were walking down the street we realized the kids were at another neighbor's house whom we hadn't met…of course they were so excited to get the balloons. This homeowner that we hadn't met was sitting and chatting with another neighbor that we know, so he called us over to meet the other neighbor. As we chatted with the two men the ice cream truck came by and our new acquaintance went to buy his little boy some ice cream – and came back with an ice cream for all of us! I'd only met this guy 5 minutes and he bought us ice cream!
So as we are drawing near our 2-year anniversary mark of being in the neighborhood (where has time gone?!) we were excited to realize how many neighbors we already know and how many new neighbors we keep meeting. It makes it a great community feeling when you can approach all of your neighbors and randomly get engrossed in conversation (and in some instances unexpectedly get treated to ice cream). It's nights such as tonight that once again make us realize how much we love the Westview community!