Flooding and Pile-Be-Gone
Comments Off

on Flooding and Pile-Be-Gone
The weekend before last we had a rather unpleasant experience. While trying to shower we noticed the water wasn't very warm. The hot was turned all the way up, no cold on at all, and the water felt just bearable to shower under. We thought that was strange and went on about our day, running some errands, etc. When we got back we thought we'd look if something was wrong with the hot water heater, which is located in the crawl space. When we opened the door we found a rather unpleasant surprise – standing water, about 6 inches deep! Our basement had flooded! There had been about 5 days of non-stop rain and apparently the earth couldn't soak it up fast enough. We haven't had that happen before. I mean, we don't go in the crawl space on a regular basis, so I wouldn't know if there's been any standing water before, but obviously this was high enough that it put out the gas flame on the hot water heater.
So of course we panicked. We scrambled to get some buckets and attempted to fill them and pour them out in the yard. Of course the yard itself was still so saturated with water that there were tons of puddles everywhere, which didn't exactly help! Then we tried using the ShopVac, but that didn't get us anywhere quickly. I think we tried like 3 or 4 other methods of getting the water out of there until it started getting dark and we were frustrated. We called some neighbors who happened to have a water pump that we were able to borrow from them. The plan was to do it the next day.
Well, the next day came and we were all prepared to get pumping, only to find all the water had disappeared on its own over night! What a relief. Thankfully the water heater was alright too.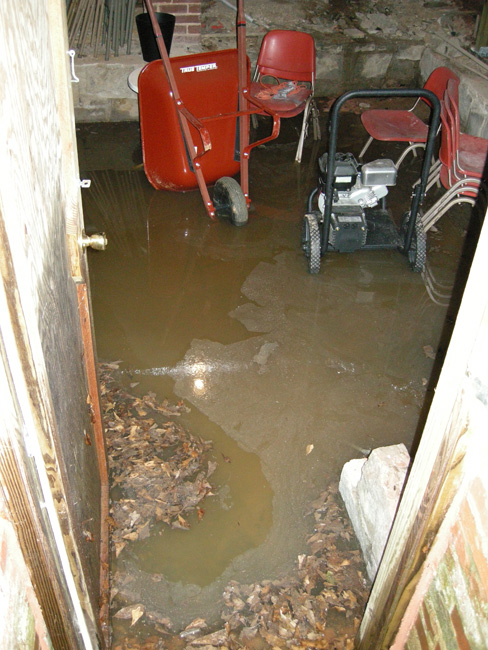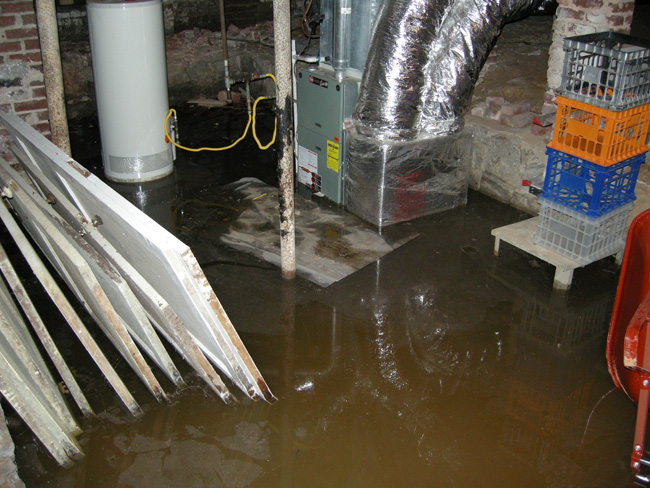 This past weekend felt much more fulfilling. We removed a dead electric wire going from the house to the garden shed and an old exterior light dangling from the side of the house. The only thing I'll be missing about the wire is the pretty birds that liked to hang out on it.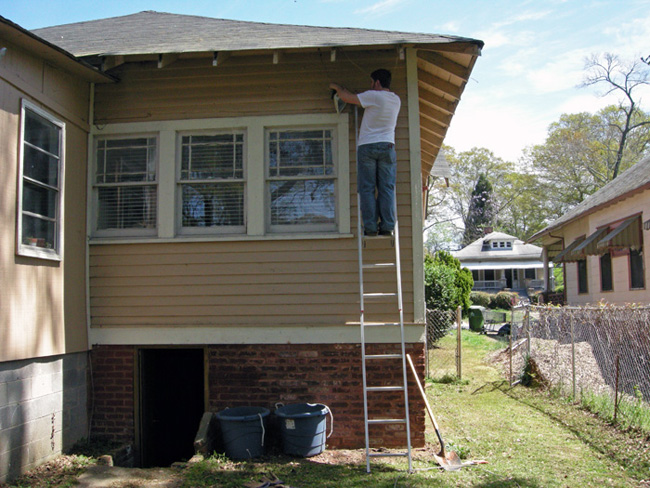 Patrick also decided to tackle the bathroom built-in drawer while I was racking up some more leaves. I think we had removed the majority of the paint on a previous occasion, so he was able to sand it down so that we can paint it again. Look at our vibrant tulips in the background!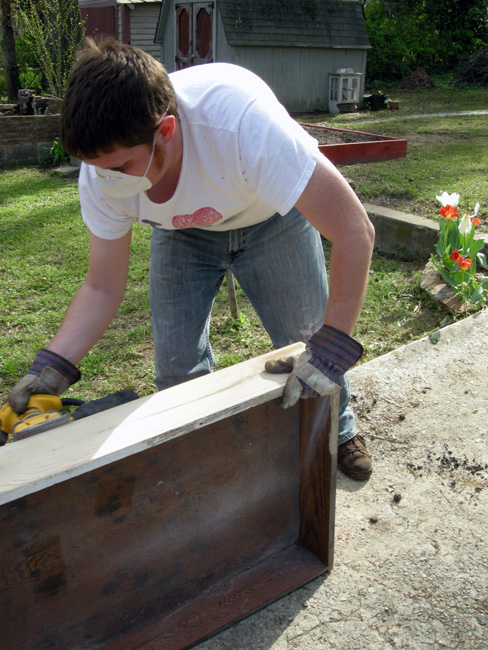 And last, but not least, we got rid of all of our big piles of junk on our driveway!! You know, the piles that made us look really, really trashy! We're so excited!! One pile was made up of the concrete remains from the front path and was sitting on the driveway at the front of the house. The other pile has been accumulating junk over the last two and a half years on the driveway in the backyard. And because we have some awesome neighbors we were able to get rid of both of them. The front pile we were able to remove several weeks ago when our neighbor Jim let us throw all the concrete debris in his dumpster. Somehow we managed to miss taking photos of both the pile when we made it (too focused on building the path), as well as when we got rid of it. The other pile we were able to eliminate this past weekend because our other neighbors, Paula and Wesley, had a dumpster for their renovation that they weren't going to fill up all the way. This has been huge for us! They were big piles of embarrassment and now they're gone. (Thanks Jim, Paula, and Wesley!) Now if that rain tomorrow will just wash away the rest of the dirt…preferably without flooding our crawl space again.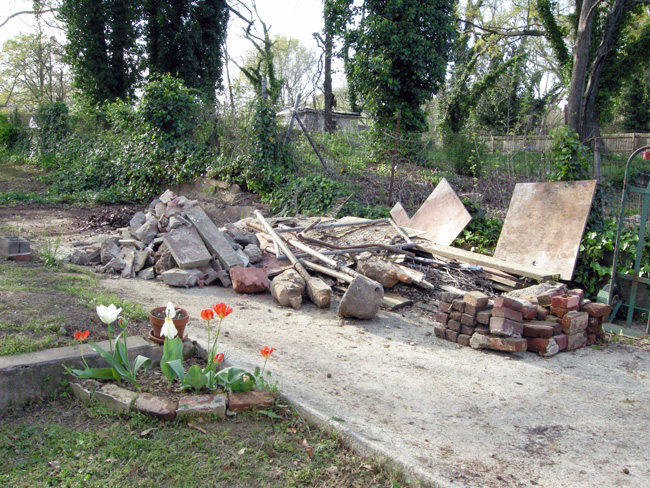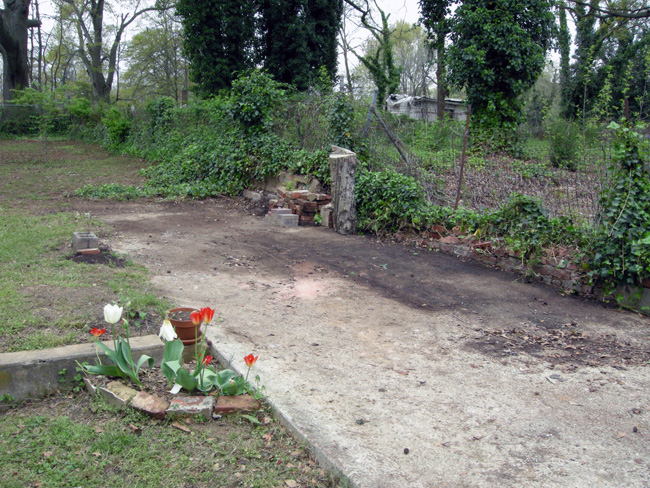 Oh, and speaking of neighbors, our street is rockin' it! We're about to have three new neighbors. Even more exciting – they're all homeowners. And funnily enough they're all moving in at the end of this month. In general I feel like there's been a swing of new people (homeowners!) buying houses in the vicinity. It feels really refreshing. I'm glad to see we're making progress and filling some of these empty homes. My prediction of 2009 being a big year for Westview seems to already be proving to be true….