Painting Part Two – 01/17/2007
Comments Off

on Painting Part Two – 01/17/2007
The bathroom sconce that will go above the medicine cabinet has been one freakin' pain in the ass. I think I mentioned it before, but we were originally interested in the Bonneville sconce by Rejuvenation. It was a little on the pricey side, and having bought their Raleigh chandelier we decided to go with the less pricey Leighton Triple Sconce from Restoration Hardware instead(which is of course now on sale after we bought it!). It was not available in store, so they had to special order it for us and sent it free of charge to our house. Only it was broken – one of the rods was broken off. After much hassle we returned it and received a new one in the mail – which was crooked! Patrick had already gotten very fed up after the hassle we had to go through the first time we returned it. This time we just arranged things over the phone and the sconce was picked up and a third one was delivered. Of course we said the whole "third one's a charm" thing – until we noticed a chip on the white porcelain part! Arrrrgh. Three sconces and all of them messed up!! I was on the phone with the girl again and told her just to give us a discount, but 10% wasn't much for a sconce that we actually did want to hang on the wall. So we gave it a fourth try…and the fourth try actually was a charm!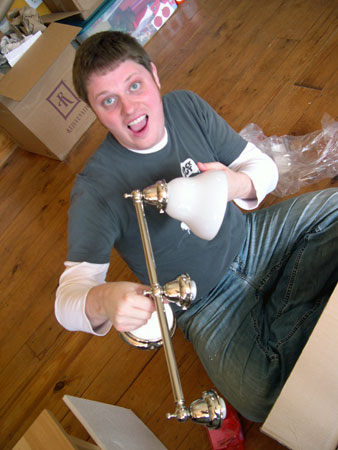 Patrick with our fourth (undamaged) sconce.
In the meanwhile more trouble arose. The template people came in the morning, and the floors guys were supposed to come back that afternoon to do a second coat of polyurethane. We got a call at 5:00 or 5:30 and were informed the guys had a flat and couldn't make it until Thursday. The only problem with this was that Thursday evening was our window of opportunity to start priming the bathroom walls since we wouldn't be able to do so Wednesday because of drying floors. Wednesday was supposed to be our "day off" from the house, so we made dinner plans with several friends. Well, when that call came we realized we'd have to go to the house right then and there to get at least a tiny bit of priming in before our dinner appointment…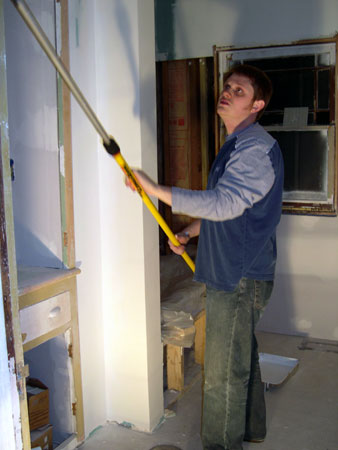 Patrick priming the bathroom walls. We only got about half-way done before we had to head out.
…and if that delay hadn't kind of messed things up enough, we again heard from our contractor Thursday afternoon that she never got a call from the floor guys. We headed over there just now and sure enough – no second coat! Grrrr. So we could have done some more painting (on the coldest night of the year yet!). I wonder what delays this will cause. The electrician is due back Saturday to finish off his work – eek.
In good news though, the counter top people told us that they would be able to meet our January 30th deadline afterall. They usually take 2-3 weeks between templating and installation, and the 30th would have been 13 days, so cutting it tight! At first they said they wouldn't be able to finish in time, but today they said they should be able to squeeze it in after all. Yippy! But I'll still hold my breath until I see it.