Repair To The Shed
Comments Off

on Repair To The Shed
We haven't done too much interior work recently, but we did fix the shed…
Since we bought the house the back floor in the shed has had a rotten floor and has limited our storage space.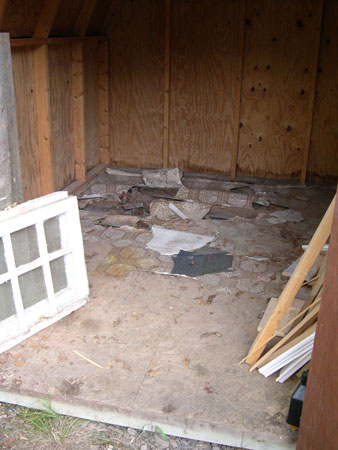 So we cleared out the shed (which was too full to even set foot in) and fixed the back area. We tore out the old rotten wood, built new framing out of 2×4's and put down new plywood. So now we were able to organize the shed and are able to actually walk inside of it again.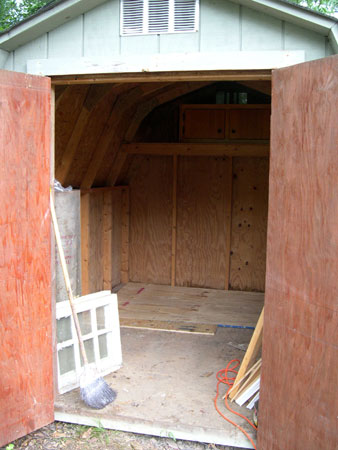 Kudzu Update: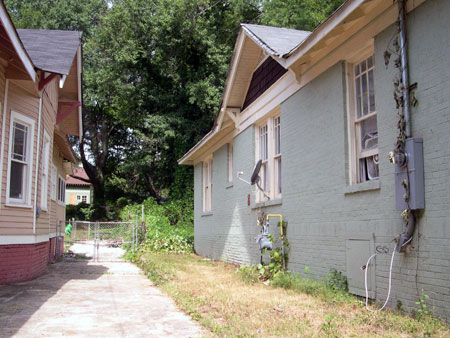 Watching the neighbor's kudzu has almost become a game for us…"where will it go next?" It had already climbed up the electricity meter to the fascia board and had engulfed the non-existing gas meter. Or at least until recently when the gas company came out and actually hooked up the neighbor's gas (and in the process removed some of said kudzu around the gas meter). The most recent excitement was that one plant was heading towards the window fan. I think it actually started to wrap itself around some of the fan!
So ironically we decided to go to Lowe's recently to buy some Round-Up kudzu killer. When we left the kudzu was there. When we came back with the kudzu killer it was gone! Apparently while we were at the store our neighbor had decided that the kudzu on the side of the house was getting too much (maybe they started noticing the kudzu attaching to the window fan?) and chopped it down a good amount. Of course we were also surprised by the chopped off kudzu that was now covering our driveway. We weren't sure whether to be ecstatic that the kudzu was gone or upset that our driveway was covered with the remains. So while doing yard work the other day Patrick took the liberty of going over the area with the lawn mower to ensure the kudzu was cut even shorter.
In the meanwhile the backyard is still covered waist high in kudzu and we attempted to spray some of it with the kudzu killer along the property line. Our neighbor has also informed us that they would tackle the back of the yard in the winter/next summer, so we'll still have to fight it until then.